Kumdo-Kumbub
What is Kumdo-Kumbub?
Kumdo/Kumbub is the Korean Art of fencing. It has just gained popularity recently in the United States. Much like Tae Kwon Do, training in this art develops physical conditioning, stress release, mental concentration, strength, agility and speed. Although no experience or skill level is required to start. Kumdo will challenge, develop discipline, confidence, and leadership in its practitioners.
Kumdo is the sport side, much
like Japanese kendo, where students
practice with bamboo swords and armor.




Kumbub is the more traditional side of combat,
cutting techniques, using wooden (mokhum), and
steel (jingum) swords.

Potential students must be interviewed by instructor before joining.
Promotion test
Promotion tests are conducted at instructors discretion, by a Qualified Master (4th Dan) or Higher instructor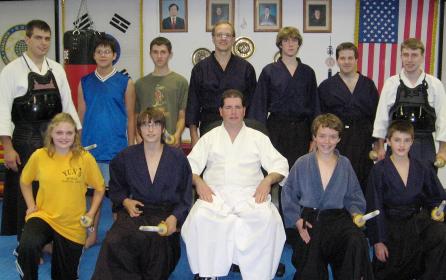 Kumdo-Kumbub Class Schedule


Tuesdays & Thursdays
Ages 10-105
All ranks 7:00 pm-7:50 pm

Fridays
Private lessons after 5:00 pm

Students may join at any time.
Kumdo-Kumbub Class Fees

Youth and Adult
1 Student $10/per class
1 Student $60/month
Family Discount $30
Private Lessons $30/Hour
$20/Half hour
TKD Discount $30/student/month

pay dues online

Fees are based on month to month; not number of class days in each month. Dues should be paid before the 15th of every month.